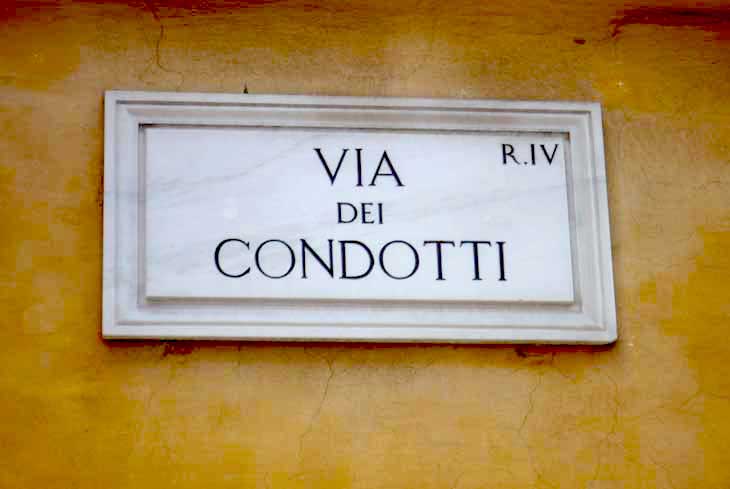 Via dei Condotti is a famous and elegant street in Rome, Italy. It is renowned for its high-end and luxury shopping, featuring some of the world's most prestigious and exclusive fashion brands. Here are some key points about Via dei Condotti:
Luxury Shopping: Via dei Condotti is often considered Rome's premier luxury shopping street. It is home to flagship stores and boutiques of renowned Italian and international fashion houses, including names like Gucci, Prada, Bulgari, Valentino, and more.

Spanish Steps: Via dei Condotti is closely associated with the Spanish Steps (Scalinata di Trinità dei Monti), one of Rome's most famous landmarks. The street leads directly to the base of the Spanish Steps, creating a picturesque and fashionable atmosphere in this area.

Historical Significance: The street has historical significance and is lined with elegant buildings, many of which have a rich history. Some of these buildings date back to the 17th and 18th centuries.

Tourist Attraction: Via dei Condotti is a popular destination for tourists and locals alike. Visitors often stroll along the street, enjoying the luxury boutiques, window shopping, and soaking in the sophisticated atmosphere.

Proximity to Landmarks: In addition to the Spanish Steps, Via dei Condotti is close to other significant landmarks in Rome, such as the Trevi Fountain and the Pantheon, making it a central and well-visited part of the city.

Cultural Events: The street occasionally hosts cultural events and fashion shows, attracting those interested in the latest trends and designs.

Visiting Via dei Condotti provides a glimpse into the world of high fashion and luxury retail in the heart of Rome. It's not only a shopping destination but also an iconic street that reflects the city's rich history and contemporary style.
Prestigious and high-end fashion brands
Certainly Via dei Condotti is known for housing some of the most prestigious and high-end fashion brands in the world. Here are a few notable luxury shops on Via dei Condotti in Rome:
Gucci: Via dei Condotti is home to one of Gucci's flagship stores. Gucci is an Italian luxury brand known for its fashion and leather goods.

Bulgari: Bulgari, an Italian luxury brand famous for its jewelry, watches, and accessories, has a prominent presence on Via dei Condotti.

Valentino: Valentino, a renowned Italian fashion house, has a boutique on Via dei Condotti, showcasing its elegant and sophisticated designs.

Prada: The luxury fashion brand Prada, known for its high-quality leather goods, clothing, and accessories, is also located on this prestigious street.

Fendi: Fendi, an Italian luxury fashion house specializing in fur, leather goods, and accessories, has a flagship store on Via dei Condotti.

Salvatore Ferragamo: This famous Italian luxury brand, known for its footwear, leather goods, and accessories, has a boutique on Via dei Condotti.

Dolce & Gabbana: The Italian luxury fashion brand Dolce & Gabbana, recognized for its opulent and glamorous designs, has a presence on this street.

Louis Vuitton: The French luxury brand Louis Vuitton, celebrated for its luggage, leather goods, and accessories, has a store on Via dei Condotti.

These are just a few examples, and there are many more luxury boutiques and designer stores along Via dei Condotti, making it a prime destination for those seeking the height of fashion and elegance in Rome. Keep in mind that the availability of specific stores can change, so it's a good idea to check for the latest information if you plan to visit.