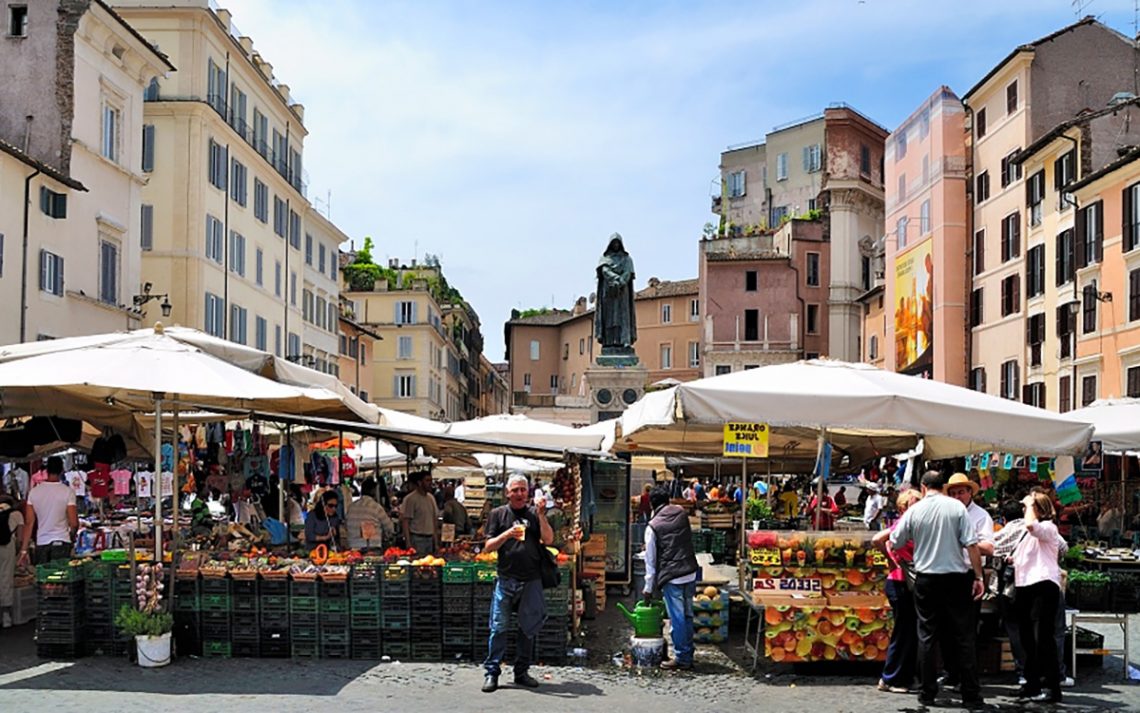 Once a simple flowery meadow, which gave the name Campo de' Fiori, until the 15th century animals grazed there. This square is today one of the most picturesque places in the city.
Located near Piazza Farnese, on the road to Piazza Navona, it has maintained the charm of ancient Rome, animated every morning by a picturesque market with its wooden stalls.
The rest of the day, its many bars and terraces bring the place to life. In the evening, many young Romans gather around the statue of Giordano Bruno, to relax, talk, drink a beer, talk, …
In the 15th century the ancient Campidoglio market (Piazza del Mercato, now Aracoeli) was moved to Piazza Navona. All the activity of the neighborhood develops, the place of Campo has been paved and hostels have been built around its outskirts. In 1869 the Navona market was moved here. The square was also a place of public executions.
In the center of the square, the statue of the philosopher monk Giordano Bruno was erected in 1889. This, with very liberal ideas, was burned at the stake by the church on February 17, 1600, condemned for heresy.

On several occasions, the Vatican has unsuccessfully attempted to topple the statue.
The impassive stature of the statue, immobile by definition, contrasts with the animation of the square and all the excitement of passers-by, groups of young people and tourists.

Statue of Giordano Bruno
place campo dei fiore Erected on 9 June 1889, the statue is a work by Ettore Ferrari. This project, an anticlerical symbol, was not easy to realize in Rome's powerful clerical environment. Proposed in 1876, it was with a new city council in 1888 that the situation was cleared. However, Pope Leo XIII also accused this work of being a symbol of the fight against the Catholic religion.
On the base of the monument, eight medallions bear effigies of famous heretics and panels tell scenes from the life of Giordano Bruno.

An inscription by Giovanni Bovio says: "To Bruno / the century divined by him / here / where the stake burned".

Camp fountain
In place of the current statue there was a fountain, called "la Terrina", designed by Giacomo della Porta in 1590. It looked like a tureen, made up of an oval marble basin covered by a curved lid with a ball in the centre. It was also decorated with bronze dolphins. An inscription dated 1622 says "he loves God and does not fail, does good and lets it be said". Dismantled to erect the statue, it was reassembled in 1924 and placed in Piazza della Chiesa Nuova.

The same year, the current fountain was placed on one side of the Campo, inspired by the ancient fountain. Similar in size to the old one, with its oval tub, it has instead of a "lid" in the center, another small raised tub.
​