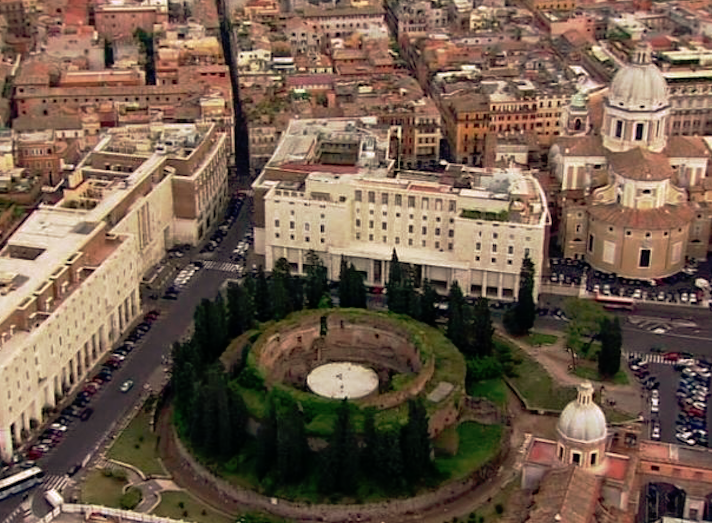 The Mausoleum of Augustus, also known as Augusteo, after many years of restorations, has finally returned to be visited on 1 March 2021 and it is possible to admire its beauty and majesty.
The Mausoleum of Augustus is a majestic funerary monument located on the left bank of the Tiber River and near the Ara Pacis, in the Campo Marzio area, in the ancient heart of Rome. It is considered the largest circular tomb in the world.
It was built with a circular plan built in the 1st century BC.
The mausoleum was built by the will of Augustus in 28 BC. to commemorate the victory over Marcus Anthony in the battle of Actium in 31 BC. which allowed him to conquer Egypt. The circular plan was inspired by the circular tomb of the Macedonian leader Alexander the Great. When Augustus returned from the battle passing through Alexandria he saw the tomb, with a circular plan and in Hellenistic style, of the great leader, from this tomb he probably drew inspiration to create his personal monument.
Its dimensions are considerable (about 87 m in diameter) and for this reason, it can be considered the largest circular sepulcher ever known. The architectural structure of the Mausoleum of Augustus consisted of a cylindrical body covered with blocks of travertine. On the southern side there was a door preceded by a short staircase and near the entrance, bronze tables were placed with the so-called "Res Gestae", the emperor's autobiography, engraved; these engravings are visible on the wall of the Ara Pacis Museum.
The interior of the Mausoleum of Augustus consisted of an access corridor called "dromos" which allowed access to the circular burial chamber. In it there were three rectangular niches and in each of them, there were urns. In the niche on the left were the ashes of Octavia, sister of the emperor and his son Marcellus. Augustus, on the other hand, is presumed to have been buried in the room created within the central cylindrical core.