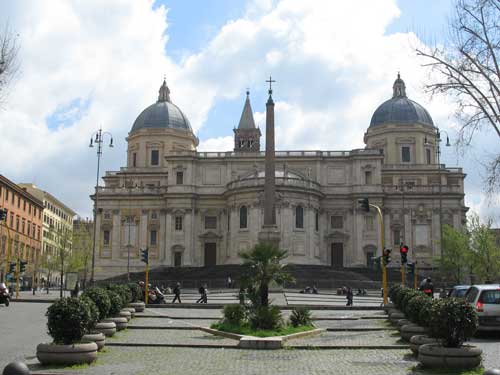 Basilica Di Santa Maria Maggiore
There is always something new to discover in Rome. If you are teking a walk next to Termini central train station, don't miss a chance to discover one of the most amazing churches of eternal city. Santa Maria Maggiore is a patriarchal basilica dedicated to the Blessed Virgin Mary. The basilica is also known as Basilica Liberiana after the founder, as Santa Maria della Neve (Our Lady of the Snow) after a miracle associated with it.
What is the story of this Basilica? According to a 13th-century legend, the first church was built here by Pope Liberius, on the site of an apparition of the Blessed Virgin Mary. The legend has it that the Virgin appeared to Pope Liberius and the patrician Giovanni Patrizio on August 4, 352, instructing them to build a church on the Esquiline Hill. That night, the floor plan was outlined by a miraculous snowfall.
Archaeological evidence indicates the different story. It is revealed that the church was probably first built in the early 400s and completed under Pope Sixtus III. This was a time when churches dedicated to Mary were beginning to spring up all over the empire, prompted by an increasingly popular devotion to the Virgin and the official acceptance of her title "Theotokos" (Mother of God) at the Council of Ephesus in the middle of 5th century.
What is so special about the church? One of the many highlights in the basilica is the beautiful coffered ceiling designed by Giuliano da Sangallo and placed there in the 16th century. It is said to be gilded of gold from the Inca tribe, presented to the church by Ferdinand and Isabella of Spain. Many historians, however, dispute that fact. The Santa Maria Maggiore also contains some interesting tombs such as those of pope Sixtus and renowned sculptor Gian Lorenzo Bernini.
Santa Maria Maggiore was fully restored and renovated in the 18th century – the facade and most of the interior decorations date from this period. Today, the basilica is served by Redemptorist and Dominican fathers and remains very popular with pilgrims and tourists alike. The Santa Maria Maggiore Basilica is open every working from 7:00 to 19:00 (in winter until 18:00), on Sundays and holidays from 9:30 to 12:00. Free entrance!