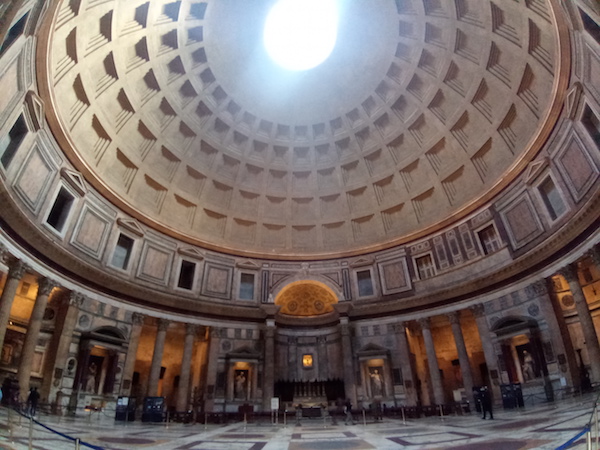 The Pantheon in Rome, known simply as "Pantheon", is one of the masterpieces of Roman architecture. It is the building with the best state of conservation of Ancient Rome.
The construction of the Pantheon was completed by Hadrian, in 126 AD. The name of Agrippa was assigned to him because the place on which it was built was previously occupied by a temple built at the behest of Agrippa in 27 BC, but which was destroyed by a fire in 80 AD.
The name derives from two Greek words: pan, "all" and theon "divine", originally in fact the Pantheon was a small temple dedicated to all the Roman gods. Built between 27 and 25 BC. by the consul Agrippa, prefect of the emperor Augustus
At the beginning of the seventh century, the building was donated to Pope Boniface IV and he transformed it into a church, which is why it is currently in a perfect state of conservation.
The architecture of the Pantheon is unique and spectacular.
What is most striking about the architecture of the Pantheon are its dimensions: its diameter has exactly the same measurement as the height or 43.30 meters. The dome, of the same diameter, is larger than that of St. Peter's Basilica. At the center of the dome, there is an oculus of 8.92 meters in diameter, which allows natural light to penetrate and illuminate the entire building.
The rectangular facade, which hides the huge dome, is made up of 16 granite columns 14 meters high, on which the inscription "M. Agrippa L. F. Cos. Tertium fecit ", which means" It was built by Marco Agrippa, son of Lucio, in the year of his third consulate ".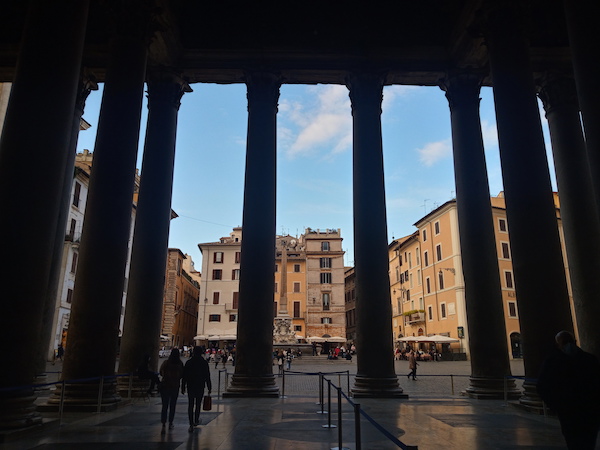 Inside the Pantheon, there are the tombs of the kings of Italy and various works of art. This is where the tomb of Raffello Sanzio is found!
The Pantheon is the Roman monument that boasts the greatest number of firsts: it is the best preserved, it has the largest masonry dome in the entire history of architecture, it is considered the forerunner of all modern places of worship, and it was the most copied and imitated work of antiquity.
Michelangelo considered it the work of angels and not of men.
The point where it stands is not accidental but it is a legendary place in the history of the city. According to a Roman legend, in fact, this was the place where the founder of Rome, Romulus, was grabbed by an eagle upon his death and taken to heaven among the gods.